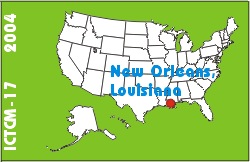 Electronic Proceedings of the Seventeenth Annual International Conference on Technology in Collegiate Mathematics
New Orleans, Louisiana, October 28-31, 2004
Paper W003
This is an electronic reprint, reproduced by permission of Pearson Education Inc. Originally appeared in the Proceedings of the Seventeenth Annual International Conference on Technology in Collegiate Mathematics, Edited by Joanne Foster, ISBN 0-321-43792-6, Copyright (C) 2006 by Pearson Education, Inc.
Connecting Geometry, Algebra, Statistics, Trigonometry, and Calculus with the TI-89/Voyage 200
---
Click to access this paper:
---
Participants will utilize the geometry,data/matrix,equation,and graphics editors of the TI-89/Voyage 200 to investigate the connections between the unit circle and trigonometric functions and to explore the minimal path problem and its extensions.
---
Keyword(s): geometry, college algebra, statistics, trigonometry, calculus, graphing calculators, TI-89, Voyage 200