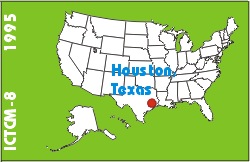 Electronic Proceedings of the Eighth Annual International Conference on Technology in Collegiate Mathematics
Houston, Texas, November 16-19, 1995
Paper C085
Training In-service and Pre-service Teachers in the Use of Technology
Ronald J. Harshbarger

Department of Mathematics and Computer Science
Georgia Southern University
L.B. 8093
Statesboro, GA 30460
USA
Phone: (912) 681-5202
Fax: (912) 681-0654


ronharsh@gsvms2.cc.gasou.edu



list of all papers by this author
---
Click to access this paper:
---
Because technology is becoming increasingly available in high schools, it is especially important for in-service teachers and for future teachers to be able to use the technology effectively in their classrooms. Because many in-service teachers have had little contact with technology and because pre-service teachers have no training in how to teach with technology, a course was developed at Georgia Southern University that would give them experience using various types of technology, especially in the solution of real data problems, and would give them a teaching model for the introduction to the use of technology in their classrooms. Students in this course solve applied problems with the use of graphics calculators, computer algebra systems, geometry software, and the Internet.The course discusses applied problems from the areas of algebra, trigonometry, geometry, and calculus In the process of solving the assigned problems, students learn (or improve) their skills in the use of graphics calculators, Mathematica, Geometer's Sketchpad, e-mail, and the World Wide Web. Solution of many problems requires the selection and use of appropriate technology to model real data problems. Solution of some problems requires researching the assumptions and finding appropriate formulas, which is done on Netscape. Other problems require students to develop formulas, and most of the problems require that students model real data as the first step in the solution process. The course requires students to work individually and in cooperative groups with technology to solve applied problems, many of which involve modeling.
Each student is expected to be an expert in one type of technology, and to demonstrate the use of that technology to lead in the solution of an applied problem. Graduate students are cooperative learning team leaders and assist in evaluating team member contributions. These in-service and future teachers learn more than how to use current technology. They learn how to manage cooperative learning, and how to direct modeling of data with technology. They learn how to select problems that are meaningful to their students and reasonable for the technology they have available. Many in-service teachers apply these skills immediately to their classrooms.
---
Keyword(s): teacher training, graphing calculators, Mathematica, Internet, on-line access, computer algebra systems, applications