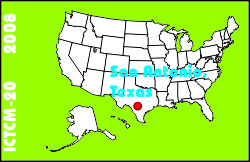 Electronic Proceedings of the Twentieth Annual International Conference on Technology in Collegiate Mathematics
San Antonio, Texas, March 6-9, 2008
Paper S102
This is an electronic reprint, reproduced by permission of Pearson Education Inc. Originally appeared in the Proceedings of the Twentieth Annual International Conference on Technology in Collegiate Mathematics, ISBN 0-321-64488-3, Copyright (C) 2009 by Pearson Education, Inc.
Radioactive Decay: Data Collection and Analysis of a Real Poisson Process
---
Click to access this paper:
---
This paper shows how to record radioactive decay and extract data from the recording using a microphone, PC, inexpensive sensor, and free software Audacity. This data is analyzed with Mathematica to confirm that the decay process is well approximated by a Poisson Process.
---
Keyword(s): probability, statistics, applications, software