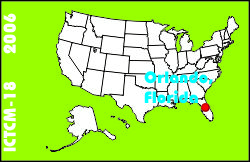 Electronic Proceedings of the Eighteenth Annual International Conference on Technology in Collegiate Mathematics
Orlando, Florida, March 16-19, 2006
Paper S050
This is an electronic reprint, reproduced by permission of Pearson Education Inc. Originally appeared in the Proceedings of the Eighteenth Annual International Conference on Technology in Collegiate Mathematics, Edited by Joanne Foster, ISBN 0-321-49160-2, Copyright (C) 2007 by Pearson Education, Inc.
Tablet PCs in Mathematics: VLC Project
---
Click to access this paper:
---
We introduce curricular innovations in a calculus course where the students have personal access to Tablet and Pocket PCs. We discuss the use of specific applications such as One Note and conferencing software and the implementation of student collaboration with instructors and other students outside the classroom.
---
Keyword(s): calculus, cooperative learning, software, Internet