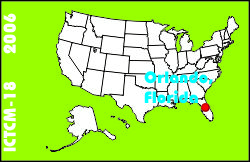 Electronic Proceedings of the Eighteenth Annual International Conference on Technology in Collegiate Mathematics
Orlando, Florida, March 16-19, 2006
Paper S023
This is an electronic reprint, reproduced by permission of Pearson Education Inc. Originally appeared in the Proceedings of the Eighteenth Annual International Conference on Technology in Collegiate Mathematics, Edited by Joanne Foster, ISBN 0-321-49160-2, Copyright (C) 2007 by Pearson Education, Inc.
Using Technology to Teach Mathematics Topics Foundational to Calculus at Secondary Level
Antonio R. Quesada

Department of Theoretical & Applied Mathematics
The University of Akron
Akron, OH 44325-4002
USA


aquesada@uakron.edu



list of all papers by this author
---
Click to access this paper:
---
In the last decade the integration of technology in the teaching and learning of mathematics has increased substantially. As a result many graphical ideas, some numerical ones, and some good modeling problems have found their way into Precalculus books. At the same time, relevant concepts, tools, and approaches, now available via technology, are being ignored. In this article we review examples of approaches and applications, not yet present in most Precalculus books that illustrate how the numerical and graphical capabilities of graphing calculators can be used to enhance the teaching and learning of key calculus concepts.
---
Keyword(s): applications, precalculus, graphing calculators