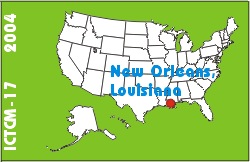 Electronic Proceedings of the Seventeenth Annual International Conference on Technology in Collegiate Mathematics
New Orleans, Louisiana, October 28-31, 2004
Paper W007
This is an electronic reprint, reproduced by permission of Pearson Education Inc. Originally appeared in the Proceedings of the Seventeenth Annual International Conference on Technology in Collegiate Mathematics, Edited by Joanne Foster, ISBN 0-321-43792-6, Copyright (C) 2006 by Pearson Education, Inc.
Some Elementary Cryptography Including RSA with The TI-92+ and Voyage 200
---
Click to access this paper:
---
This hands-on workshop will include demonstrations of cryptosystems including Caesar, affine, block ciphers and RSA.
---
Keyword(s): discrete mathematics, applications, software, TI-92, Voyage 200