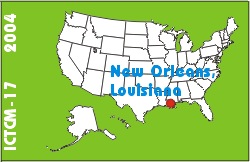 Electronic Proceedings of the Seventeenth Annual International Conference on Technology in Collegiate Mathematics
New Orleans, Louisiana, October 28-31, 2004
Paper S073
This is an electronic reprint, reproduced by permission of Pearson Education Inc. Originally appeared in the Proceedings of the Seventeenth Annual International Conference on Technology in Collegiate Mathematics, Edited by Joanne Foster, ISBN 0-321-43792-6, Copyright (C) 2006 by Pearson Education, Inc.
College Algebra in Context: An Interdisciplinary Approach
---
Click to access this paper:
---
We have developed an algebra course based on real applications from business, economics, biology, and the social sciences in a setting that connects mathematical content with the real world. Data analysis, modeling and technology are woven into the course so that the approach is refreshing and interesting.
---
Keyword(s): college algebra, applications, modeling