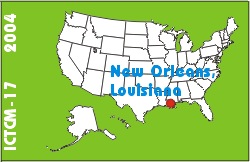 Electronic Proceedings of the Seventeenth Annual International Conference on Technology in Collegiate Mathematics
New Orleans, Louisiana, October 28-31, 2004
Paper S026
This is an electronic reprint, reproduced by permission of Pearson Education Inc. Originally appeared in the Proceedings of the Seventeenth Annual International Conference on Technology in Collegiate Mathematics, Edited by Joanne Foster, ISBN 0-321-43792-6, Copyright (C) 2006 by Pearson Education, Inc.
Bringing Linear Programming to Life for Business Students - An Interactive Tool to Improve Learning
---
Click to access this paper:
---
A series of applets were developed in an attempt to improve understanding of the solving process of linear programming problems. We discuss the typical student we work with, and the course these students take. Implementation and results from student responses will be shared along with a demonstration of the applet.
---
Keyword(s): linear programming, software