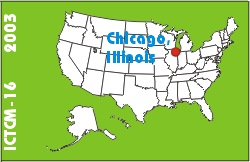 Electronic Proceedings of the Sixteenth Annual International Conference on Technology in Collegiate Mathematics
Chicago, Illinois, October 30-November 2, 2003
Paper S118
This is an electronic reprint, reproduced by permission of Pearson Education Inc. Originally appeared in the Proceedings of the Sixteenth Annual International Conference on Technology in Collegiate Mathematics, Edited by Corinna Mansfield, ISBN 0-321-30456-x, Copyright (C) 2005 by Addison-Wesley Publishing Company, Inc.
Mathematical Modeling: Predicting the Size of the Terror Bird with Proportionality and Geometric Similarity
---
Click to access this paper:
---
We discuss models for the Terror Bird that explore models from College Algebra using exponential and natural logs through models from Numerical Analysis involving divided difference tables and cubic splines.
---
Keyword(s): modeling, college algebra, numerical methods