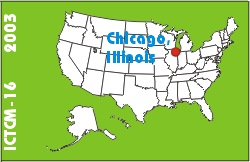 Electronic Proceedings of the Sixteenth Annual International Conference on Technology in Collegiate Mathematics
Chicago, Illinois, October 30-November 2, 2003
Paper S009
This is an electronic reprint, reproduced by permission of Pearson Education Inc. Originally appeared in the Proceedings of the Sixteenth Annual International Conference on Technology in Collegiate Mathematics, Edited by Corinna Mansfield, ISBN 0-321-30456-x, Copyright (C) 2005 by Addison-Wesley Publishing Company, Inc.
Computer Algebra in the Classroom: Promises, Perils, and Pedagogical Perspectives
Edmund A. Lamagna


Department of Computer Science
University of Rhode Island
Kingston, RI 02881
USA


eal@cs.uri.edu



list of all papers by this author

William C. Bauldry


Department of Mathematical Sciences
Appalachian State University
Boone, NC 28608
USA


bauldrywc@appstate.edu



list of all papers by this author

J. Douglas Child


Department of Mathematical Sciences
Rollins College
Winter Park, FL 32789
USA


child@rollins.edu



list of all papers by this author

Wade Ellis


Mathematics Department
West Valley College
Saratoga, CA 95070
USA


wade_ellis@wvmccd.cc.ca.us
---
Click to access this paper:
---
Computer Algebra Systems (CAS) have revolutionized how mathematics is done and taught. Their evolution is traced, emphasizing applications to collegiate mathematics. Successes and benefits of CAS in the classroom, along with potential pitfalls, and perils are assessed. Several design and implementation issues are discussed to illustrate the inherent and practical limits of CAS and to demystify their operation.
---
Keyword(s): computer algebra systems, pedagogy