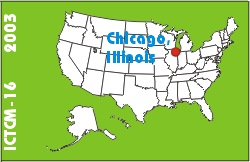 Electronic Proceedings of the Sixteenth Annual International Conference on Technology in Collegiate Mathematics
Chicago, Illinois, October 30-November 2, 2003
Paper M016
This is an electronic reprint, reproduced by permission of Pearson Education Inc. Originally appeared in the Proceedings of the Sixteenth Annual International Conference on Technology in Collegiate Mathematics, Edited by Corinna Mansfield, ISBN 0-321-30456-x, Copyright (C) 2005 by Addison-Wesley Publishing Company, Inc.
Using StudyCards Creator Software in Teaching Years 1 and 2 Collegiate Mathematics
Judy O'Neal

Department of Mathematics and Computer Science
Noth Georgia College & State University
Dahlonega, GA 30597
USA


joneal@ngcsu.edu



list of all papers by this author
---
Click to access this paper:
---
We discuss how to use TI's StudyCards creator software in College Algebra, Precalculus, Calculus, or mathematics courses for pre-service teachers to create stacks of electronic flash cards for the TI-73/TI-83+.
---
Keyword(s): software, TI-83, college algebra, precalculus, calculus, teacher training