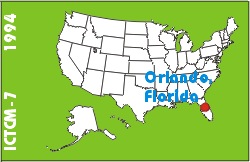 Electronic Proceedings of the Seventh Annual International Conference on Technology in Collegiate Mathematics
Orlando, Florida, November 17-20, 1994
Paper C007
Using Technology as a Tool in Abstract Algebra and Calculus Courses: The MTSU Experience
Vatsala Krishnamani


Department of Mathematical Sciences
Middle Tennessee State University
Murfreesboro, TN 37132
USA
Phone: (615) 898-2669
Fax: (615) 898-5422


VKRISHNAMANI@ACAD1.MTSU.EDU

Dovie Kimmins


Department of Mathematical Sciences
Middle Tennessee State University
Murfreesboro, TN 37132
USA
Phone: (615) 898-2669
Fax: (615) 898-5422


dkimmins@mtscu.edu



list of all papers by this author
---
Click to access this paper:
---
Recently the Department of Mathematical Sciences at Middle Tennessee State University embarked upon the task of restructuring its undergraduate program. One of the important components of this restructuring was a recommendation for the use of technology to enhance the teaching and learning process. Two of the courses in which technology was rigorously used in the Fall of 1993 were abstract algebra and calculus. The authors were the instructors of these courses, respectively. In this paper the authors will attempt to explain the changes in the method, the resulting effect on the student learning pattern, their conclusions, and the actions prompted by these facts.
In the abstract algebra course, the software ISETL was used based on the model and text by Ed Dubinsky of Purdue University. The software was useful in that it allowed students to be more active than in a traditional abstract algebra course. They had a tool for generating concrete examples of abstract algebra concepts and often using this evidence could formulate conjectures and make generalizations. The students were divided into groups of two or three, and continuous group activities were emphasized. Students presented their own discoveries. An unanticipated consequence was that the group activities prompted the students to form their own larger groups voluntarily to discuss abstract algebra. A few 'student-teachers' emerged, sometimes to their own surprise. ISETL is still a hidden treasure in the mathematics community and should not be hidden any more.
In the calculus course, Project Calc materials written by David Smith and Lang Moore of Duke University were used. Mathcad was the chosen software. As the semester progressed the course was taught in a more traditional way and less as a laboratory course, while still utilizing the power of the technology in empowering students to be active participants in their own learning and in opening up ways to investigate rich applications and mathematical models. It was rewarding to hear students enjoy discussing and solving interesting problems. It was frustrating to hear students complain that what they were doing was not calculus. Both occurred in this course, and as well as other joys and pitfalls which will be discussed.
This paper will emphasize how technology was utilized in these courses, modifications that were made along the course of the semester to facilitate integration of technology, and student reactions to the use of the technology. How specific problem areas such as group dynamics, the time factor, and resistance from a few students were handled will be emphasized.
---
Keyword(s): abstract algebra, calculus, software, Mathcad, assessment