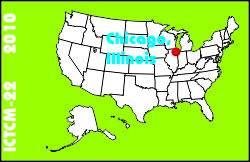 Electronic Proceedings of the Twenty-second Annual International Conference on Technology in Collegiate Mathematics
Chicago, Illinois, March 11-14, 2010
Paper S094
This is an electronic reprint, reproduced by permission of Pearson Education Inc. Originally appeared in the Proceedings of the Twenty-second Annual International Conference on Technology in Collegiate Mathematics, ISBN 978-0-321-74614-6, Copyright (C) 2011 by Pearson Education, Inc.
The Impact of Technology and Dynamic Geometry Software on Fostering Discovery and Research at the Undergraduate Level, Some New Results
---
Click to access this paper:
---
Traditionally, most students at the undergraduate level - not to mention at the secondary level - are not exposed to any research in mathematics due mostly to their lack of background. In this presentation, we look at some conditions that seem to foster students' exploration and discovery in mathematics. In addition, we will show some new results obtained by students at both levels.
---
Keyword(s): student research, geometry, pedagogy