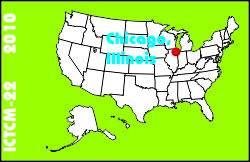 Electronic Proceedings of the Twenty-second Annual International Conference on Technology in Collegiate Mathematics
Chicago, Illinois, March 11-14, 2010
Paper R006
This is an electronic reprint, reproduced by permission of Pearson Education Inc. Originally appeared in the Proceedings of the Twenty-second Annual International Conference on Technology in Collegiate Mathematics, ISBN 978-0-321-74614-6, Copyright (C) 2011 by Pearson Education, Inc.
A Survey of the Use and Effectiveness of Technology Based Mathematics Instruction among Texas High School and Colleges and Universities
---
Click to access this paper:
---
We present the preliminary results of a survey of technology-based mathematics education among Texas high schools and colleges. In our survey, we have focused on the type of technology used (mathematics software, web-based instruction, statistical software, etc.), the proportion of courses that used technology, and the effectiveness of these tools in teaching mathematics.
---
Keyword(s): Maple, Geometer's Sketchpad, statistics, software