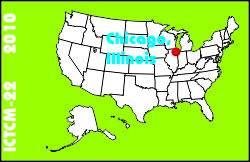 Electronic Proceedings of the Twenty-second Annual International Conference on Technology in Collegiate Mathematics
Chicago, Illinois, March 11-14, 2010
Paper C011
This is an electronic reprint, reproduced by permission of Pearson Education Inc. Originally appeared in the Proceedings of the Twenty-second Annual International Conference on Technology in Collegiate Mathematics, ISBN 978-0-321-74614-6, Copyright (C) 2011 by Pearson Education, Inc.
Using an Online Learning System to Enhance Developmental Mathematics
---
Click to access this paper:
---
In Fall 2007, Georgia Gwinnett College instituted a self-paced mastery-based course for MATH 0099 (Pre-College Algebra). Students use an online learning system and are frequently assessed based on their learning. The challenges and successes of the course are presented along with data regarding its effectiveness.
---
Keyword(s): on-line access, developmental mathematics