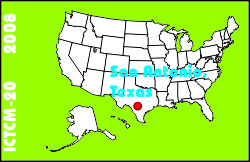 Electronic Proceedings of the Twentieth Annual International Conference on Technology in Collegiate Mathematics
San Antonio, Texas, March 6-9, 2008
Paper S059
This is an electronic reprint, reproduced by permission of Pearson Education Inc. Originally appeared in the Proceedings of the Twentieth Annual International Conference on Technology in Collegiate Mathematics, ISBN 0-321-64488-3, Copyright (C) 2009 by Pearson Education, Inc.
Real-Life Projects for Student Assessment in General Education Mathematics
---
Click to access this paper:
---
Which simple interest formula was used to calculate your car's monthly payment? What is the remaining balance? What are closing costs, points, etc. at closing? Should You refinance? What are remodeling costs? Is early retirement an option? Projects and answer keys involving these issues and other experiences are discussed.
---
Keyword(s): college algebra, assessment, applications, probability, statistics