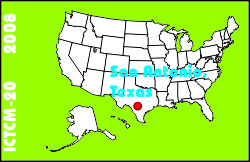 Electronic Proceedings of the Twentieth Annual International Conference on Technology in Collegiate Mathematics
San Antonio, Texas, March 6-9, 2008
Paper C015
This is an electronic reprint, reproduced by permission of Pearson Education Inc. Originally appeared in the Proceedings of the Twentieth Annual International Conference on Technology in Collegiate Mathematics, ISBN 0-321-64488-3, Copyright (C) 2009 by Pearson Education, Inc.
Multivariable Calculus Virtual Office Hours in a Metaverse
---
Click to access this paper:
---
The author has established a virtual 'office' in a 3D virtual world (metaverse) Second Life, and created tools for visualizing vectors, lines, and planes. Students in his Calculus II class were invited to participate in virtual office hours where they (i.e., their avatars) could directly experience objects in 3D space.
---
Keyword(s): multivariable calculus, software, Internet