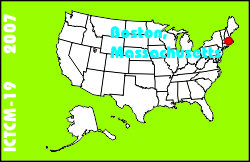 Electronic Proceedings of the Nineteenth Annual International Conference on Technology in Collegiate Mathematics
Boston, Massachusetts, February 15-18, 2007
Paper S073
This is an electronic reprint, reproduced by permission of Pearson Education Inc. Originally appeared in the Proceedings of the Nineteenth Annual International Conference on Technology in Collegiate Mathematics, Edited by Joanne Foster, ISBN 0-321-55846-4, Copyright (C) 2008 by Pearson Education, Inc.
Dueling (Dualing) Solids: Enhancing Student And Teacher Geometrical Understanding With Cabri 3D
---
Click to access this paper:
---
Two different activities (involving Platonic Solids, Nets, and Perspective Drawing) are explored. Both highlight newly added measurement features of CABRI 3D Version 2.0. The activities were constructed as part of an inquiry-based workshop producing statistically significant gains in content knowledge of teachers.
---
Keyword(s): Cabri, geometry, teacher training