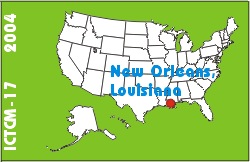 Electronic Proceedings of the Seventeenth Annual International Conference on Technology in Collegiate Mathematics
New Orleans, Louisiana, October 28-31, 2004
Paper S023
This is an electronic reprint, reproduced by permission of Pearson Education Inc. Originally appeared in the Proceedings of the Seventeenth Annual International Conference on Technology in Collegiate Mathematics, Edited by Joanne Foster, ISBN 0-321-43792-6, Copyright (C) 2006 by Pearson Education, Inc.
Interactive Mathematics Quizmaker and the Online Mathematics Placement Exams
---
Click to access this paper:
---
A latest web-based application that provides a new venue for creating, testing, grading and administration of online mathematics assessment in multiple settings will be introduced. Participants will experiment with randomized item generation, answer verification, instant feedback, and partial credit. These are constructed with simple mathematical commands and tags.
---
Keyword(s): assessment, on-line access, software