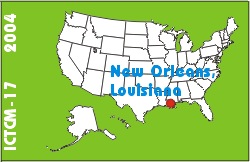 Electronic Proceedings of the Seventeenth Annual International Conference on Technology in Collegiate Mathematics
New Orleans, Louisiana, October 28-31, 2004
Paper C023
This is an electronic reprint, reproduced by permission of Pearson Education Inc. Originally appeared in the Proceedings of the Seventeenth Annual International Conference on Technology in Collegiate Mathematics, Edited by Joanne Foster, ISBN 0-321-43792-6, Copyright (C) 2006 by Pearson Education, Inc.
Modeling Projects for Student Investigation
Barry Tesman

Dickinson College
Carlisle, PA 17013


tesman@dickinson.edu
---
Click to access this paper:
---
We present projects appropriate for students in a typical calculus course studying 'Applications of Integration.' They involve using a CAS to model real data in three situations:center of mass, average value of a function, and volumes of solids of revolution.
---
Keyword(s): modeling, computer algebra systems, calculus