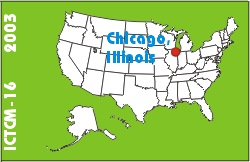 Electronic Proceedings of the Sixteenth Annual International Conference on Technology in Collegiate Mathematics
Chicago, Illinois, October 30-November 2, 2003
Paper W011
This is an electronic reprint, reproduced by permission of Pearson Education Inc. Originally appeared in the Proceedings of the Sixteenth Annual International Conference on Technology in Collegiate Mathematics, Edited by Corinna Mansfield, ISBN 0-321-30456-x, Copyright (C) 2005 by Addison-Wesley Publishing Company, Inc.
Modeling with Discrete Dynamical Systems
---
Click to access this paper:
---
Models with DDS are illustrated with prescribed drug dosages, population growth, and competitive hunter models with systems of DDS. After each model is built, the long term behavior will be shown numerically and graphically with the TI-83+.
---
Keyword(s): dynamical systems, modeling, TI-83