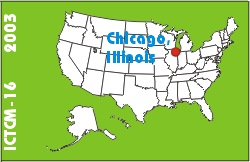 Electronic Proceedings of the Sixteenth Annual International Conference on Technology in Collegiate Mathematics
Chicago, Illinois, October 30-November 2, 2003
Paper M002
This is an electronic reprint, reproduced by permission of Pearson Education Inc. Originally appeared in the Proceedings of the Sixteenth Annual International Conference on Technology in Collegiate Mathematics, Edited by Corinna Mansfield, ISBN 0-321-30456-x, Copyright (C) 2005 by Addison-Wesley Publishing Company, Inc.
Interactive Modules for Differential and Integral Calculus of Functions of Many Variables
---
Click to access this paper:
---
Multi-variable calculus is challenging to most students due to their poor grasp of prerequisite mathematical techniques and their inability to visualize objects in the plane and space. This paper discusses interactive Mathcad modules that focus on key concepts, offering students some geometric insight while improving their problem-solving skills.
---