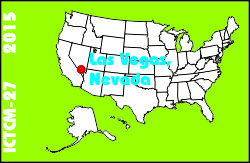 Electronic Proceedings of the Twenty-seventh Annual International Conference on Technology in Collegiate Mathematics
Las Vegas, Nevada, March 12-15, 2015
Paper A028
This is an electronic reprint, reproduced by permission of Pearson Education Inc. Originally appeared in the Proceedings of the Twenty-seventh Annual International Conference on Technology in Collegiate Mathematics, Copyright (C) 2016 by Pearson Education, Inc.
Building Interactive Mathematics Applications Using Stencyl
---
Click to access this paper:
---
We will demonstrate how to use Stencyl, an emerging cross-platform application development environment, to quickly build and publish math applications to a variety of devices. Discussion will include a quick overview of the environment, and examples of implementation.
Examples will illustrate how to implement communication with a server (for use in a student response system), adaptive learning software, and assessment using the core Stencyl tools and mathematics extensions (Instructional Software Development Kit).
Once written, the application can then be published to Apple tablets and phones, Android-powered tablets and phones, PC, Mac, and Linux, with very little, if any, modifications needed between ports.
Suggestions for incorporation of the example applications in the classroom will be provided.
---
Keyword(s): software