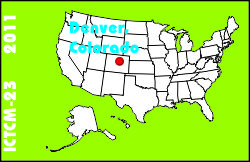 Electronic Proceedings of the Twenty-third Annual International Conference on Technology in Collegiate Mathematics
Denver, Colorado, March 17-20, 2011
Paper C002
This is an electronic reprint, reproduced by permission of Pearson Education Inc. Originally appeared in the Proceedings of the Twenty-third Annual International Conference on Technology in Collegiate Mathematics, ISBN 0-321-68984-4, Copyright (C) 2012 by Pearson Education, Inc.
Where Are We Now?: A Report on the Effectiveness of Using an Online Learning System to Enhance a Developmental Mathematics Course
---
Click to access this paper:
---
The authors describe the design of a technology-based developmental mathematics course created to remedy issues confronting developmental courses in the higher education system in the presenters' state. Combining a software-based mastery learning solution with one-on-one instruction, the course has shown increased exit rates and increased performance in subsequent mathematics courses.
---
Keyword(s): developmental mathematics