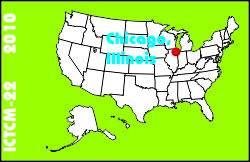 Electronic Proceedings of the Twenty-second Annual International Conference on Technology in Collegiate Mathematics
Chicago, Illinois, March 11-14, 2010
Paper S115
This is an electronic reprint, reproduced by permission of Pearson Education Inc. Originally appeared in the Proceedings of the Twenty-second Annual International Conference on Technology in Collegiate Mathematics, ISBN 978-0-321-74614-6, Copyright (C) 2011 by Pearson Education, Inc.
Using Technology in Introductory Statistics Courses
---
Click to access this paper:
---
The emphasis while teaching introductory statistics courses has shifted lately from computations to the statistical concepts and thinking. The appropriate use of technology has been identified as a positive factor to that end. This presentation discusses the benefits of integrating PowerPoint and statistical software (SPSS) in this type of course.
---
Keyword(s): statistics, software