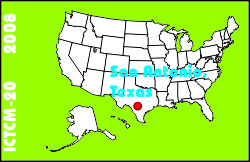 Electronic Proceedings of the Twentieth Annual International Conference on Technology in Collegiate Mathematics
San Antonio, Texas, March 6-9, 2008
Paper S112
This is an electronic reprint, reproduced by permission of Pearson Education Inc. Originally appeared in the Proceedings of the Twentieth Annual International Conference on Technology in Collegiate Mathematics, ISBN 0-321-64488-3, Copyright (C) 2009 by Pearson Education, Inc.
Sharing Concept Maps: Using CMapTools and s Course Blog as Pedagogical Organization Tools
Amy F. Kelley


Georgia College & State University


amy.kelley@gcsu.edu



list of all papers by this author

Julia K. Padden Metzker


Georgia College & State University


julia.metzker@gcsu.edu
---
Click to access this paper:
---
The authors have recently designed an interdisciplinary cluster of courses in science and mathematics for non-science majors. Content in both courses is taught through understanding a current complex societal problem that requires a scientific solution. A course project using concept mapping and blogging software as organizational tools for students is presented.
---