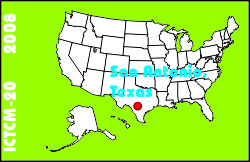 Electronic Proceedings of the Twentieth Annual International Conference on Technology in Collegiate Mathematics
San Antonio, Texas, March 6-9, 2008
Paper S107
This is an electronic reprint, reproduced by permission of Pearson Education Inc. Originally appeared in the Proceedings of the Twentieth Annual International Conference on Technology in Collegiate Mathematics, ISBN 0-321-64488-3, Copyright (C) 2009 by Pearson Education, Inc.
Bungee Jumping and Murder Investigations Using Maple and Oncourse in Differential Equations
---
Click to access this paper:
---
Course management and computer algebra systems were used to help students' understanding of free fall, exerting a force, Newton's law of cooling, and Laplace transformations. The presenter will explain how technology was used in student projects about bungee jumping and figuring out the time of death of a murder victim.
---
Keyword(s): differential equations, Maple, software