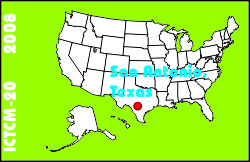 Electronic Proceedings of the Twentieth Annual International Conference on Technology in Collegiate Mathematics
San Antonio, Texas, March 6-9, 2008
Paper S047
This is an electronic reprint, reproduced by permission of Pearson Education Inc. Originally appeared in the Proceedings of the Twentieth Annual International Conference on Technology in Collegiate Mathematics, ISBN 0-321-64488-3, Copyright (C) 2009 by Pearson Education, Inc.
Choosing an On-line Homework Delivery System: Improving Pass Rates Through Technology
---
Click to access this paper:
---
In order to increase the time and effort students spend on homework, studying for tests, and working on learning activities to pass a class, an online homework delivery system was recently adopted at a diverse, midsize, urban, open admissions university. This paper describes the selection and results from incorporating a publisher's online materials into mathematics courses and, in particular, college algebra.
---
Keyword(s): college algebra, on-line access