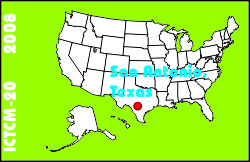 Electronic Proceedings of the Twentieth Annual International Conference on Technology in Collegiate Mathematics
San Antonio, Texas, March 6-9, 2008
Paper C009
This is an electronic reprint, reproduced by permission of Pearson Education Inc. Originally appeared in the Proceedings of the Twentieth Annual International Conference on Technology in Collegiate Mathematics, ISBN 0-321-64488-3, Copyright (C) 2009 by Pearson Education, Inc.
A Tale of Two Wikis: Upper-Level Mathematics Meets Web 2.0
---
Click to access this paper:
---
The author discusses how wikis can facilitate creative work in upper-level mathematics courses by examining two examples. One is a wiki on cryptology during WWII, done for a senior-level course in cryptology. The other is a student-generated solutions manual for a Moore-method-style Modern Algebra course.
---
Keyword(s): abstract algebra, on-line access