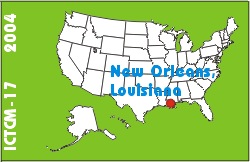 Electronic Proceedings of the Seventeenth Annual International Conference on Technology in Collegiate Mathematics
New Orleans, Louisiana, October 28-31, 2004
Paper S122
This is an electronic reprint, reproduced by permission of Pearson Education Inc. Originally appeared in the Proceedings of the Seventeenth Annual International Conference on Technology in Collegiate Mathematics, Edited by Joanne Foster, ISBN 0-321-43792-6, Copyright (C) 2006 by Pearson Education, Inc.
Using Graphing Calculators to Enhance Students Understanding of the Formal Definition of Limits
Antonio R. Quesada


Department of Theoretical & Applied Mathematics
The University of Akron


aquesada@uakron.edu



list of all papers by this author

Richard L. Einsporn


Department of Statistics
The University of Akron


reinsporn@uakron.edu

Muserref Wiggins


Department of Mathematics
Ursuline College


mwiggins@ursuline.edu
---
Click to access this paper:
---
We study if the introduction of graphical approach via graphing calculator enhances student understanding of the formal definition of limits. Students who received the graphical instruction performed significantly better on two of the conceptual items on the post-quiz, as compared to the students who received traditional instruction.
---
Keyword(s): limits, graphing calculators