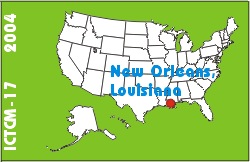 Electronic Proceedings of the Seventeenth Annual International Conference on Technology in Collegiate Mathematics
New Orleans, Louisiana, October 28-31, 2004
Paper S113
This is an electronic reprint, reproduced by permission of Pearson Education Inc. Originally appeared in the Proceedings of the Seventeenth Annual International Conference on Technology in Collegiate Mathematics, Edited by Joanne Foster, ISBN 0-321-43792-6, Copyright (C) 2006 by Pearson Education, Inc.
Geometry of the Earth and Universe Computer Labs
---
Click to access this paper:
---
We will explore a series of geometry of the earth and universe labs for liberal arts and geometry courses. Each lab takes advantage of various explorations such as web-based games, activities in Sketchpad, and related content from The Simpsons.
---
Keyword(s): geometry, applications, Geometer's Sketchpad