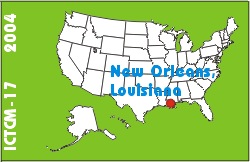 Electronic Proceedings of the Seventeenth Annual International Conference on Technology in Collegiate Mathematics
New Orleans, Louisiana, October 28-31, 2004
Paper S090
This is an electronic reprint, reproduced by permission of Pearson Education Inc. Originally appeared in the Proceedings of the Seventeenth Annual International Conference on Technology in Collegiate Mathematics, Edited by Joanne Foster, ISBN 0-321-43792-6, Copyright (C) 2006 by Pearson Education, Inc.
Developing Precalculus Concepts in Context
---
Click to access this paper:
---
This presentation explores how contextual problems requiring the use of technology can provide an effective means of motivating and developing the mathematics needed to solve them. Real world examples will include projecting the population size of an endangered sea turtle and developing a model for atmospheric pressure given elevation.
---
Keyword(s): applications, precalculus