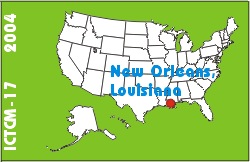 Electronic Proceedings of the Seventeenth Annual International Conference on Technology in Collegiate Mathematics
New Orleans, Louisiana, October 28-31, 2004
Paper S083
This is an electronic reprint, reproduced by permission of Pearson Education Inc. Originally appeared in the Proceedings of the Seventeenth Annual International Conference on Technology in Collegiate Mathematics, Edited by Joanne Foster, ISBN 0-321-43792-6, Copyright (C) 2006 by Pearson Education, Inc.
Interesting Computer Explorations In Multivariate Calculus
---
Click to access this paper:
---
This talk will focus on how to use DERIVE to create interesting computer explorations that help students 'understand the math'. The talk will include student worksheets, computer labs, and a parametric surface competition.
---
Keyword(s): multivariable calculus, Derive