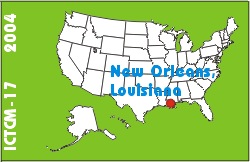 Electronic Proceedings of the Seventeenth Annual International Conference on Technology in Collegiate Mathematics
New Orleans, Louisiana, October 28-31, 2004
Paper S037
This is an electronic reprint, reproduced by permission of Pearson Education Inc. Originally appeared in the Proceedings of the Seventeenth Annual International Conference on Technology in Collegiate Mathematics, Edited by Joanne Foster, ISBN 0-321-43792-6, Copyright (C) 2006 by Pearson Education, Inc.
An Optimal Computer Facility Location
---
Click to access this paper:
---
Optimization problems are typically taught graphically in college algebra (precalculus) and later in calculus with differentiation. We tackle a straightforward optimization problem whose model is easy but the solution (via calculus) is virtually impossible. We demonstrate several techniques for achieving good solutions using MAPLE.
---
Keyword(s): optimization, Maple