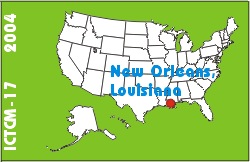 Electronic Proceedings of the Seventeenth Annual International Conference on Technology in Collegiate Mathematics
New Orleans, Louisiana, October 28-31, 2004
Paper M002
This is an electronic reprint, reproduced by permission of Pearson Education Inc. Originally appeared in the Proceedings of the Seventeenth Annual International Conference on Technology in Collegiate Mathematics, Edited by Joanne Foster, ISBN 0-321-43792-6, Copyright (C) 2006 by Pearson Education, Inc.
Exploring Multivariable Calculus with DPGraph
---
Click to access this paper:
---
DPGraph is powerful, simple-to-use dynamic visualization software for graphing 2d and 3d objects .A variety of in-class and homework assignments, group and individual projects are developed to enhance students learning in Multivariable Calculus. Minicourse participants will gain operational knowledge of DPGraph and learn how to integrate it into the classroom.
---
Keyword(s): multivariable calculus, software