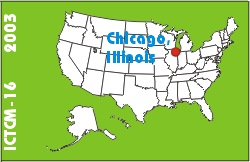 Electronic Proceedings of the Sixteenth Annual International Conference on Technology in Collegiate Mathematics
Chicago, Illinois, October 30-November 2, 2003
Paper S131
This is an electronic reprint, reproduced by permission of Pearson Education Inc. Originally appeared in the Proceedings of the Sixteenth Annual International Conference on Technology in Collegiate Mathematics, Edited by Corinna Mansfield, ISBN 0-321-30456-x, Copyright (C) 2005 by Addison-Wesley Publishing Company, Inc.
Slides, Tubes, Wedges, and Ramps on Derive
---
Click to access this paper:
---
Students have a hard time visualizing and drawing mathematical objects in 3D. In this paper, the author shows how to use Derive to help students visualize curves and surfaces in 3D.
---