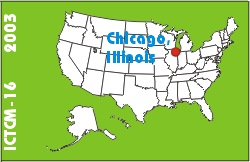 Electronic Proceedings of the Sixteenth Annual International Conference on Technology in Collegiate Mathematics
Chicago, Illinois, October 30-November 2, 2003
Paper S029
This is an electronic reprint, reproduced by permission of Pearson Education Inc. Originally appeared in the Proceedings of the Sixteenth Annual International Conference on Technology in Collegiate Mathematics, Edited by Corinna Mansfield, ISBN 0-321-30456-x, Copyright (C) 2005 by Addison-Wesley Publishing Company, Inc.
Teaching Mathematical Proof with Technology to First Year Students
---
Click to access this paper:
---
With discrete mathematics being taught at the freshman level, the role of 'proof' in this course is under scrutiny. The authors will demonstrate computer-based activities from their freshman course that teach proof as an interactive process. They also share preliminary assessment data on learning objectives for this course.
---
Keyword(s): discrete mathematics, Flash