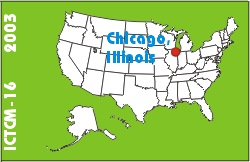 Electronic Proceedings of the Sixteenth Annual International Conference on Technology in Collegiate Mathematics
Chicago, Illinois, October 30-November 2, 2003
Paper S016
This is an electronic reprint, reproduced by permission of Pearson Education Inc. Originally appeared in the Proceedings of the Sixteenth Annual International Conference on Technology in Collegiate Mathematics, Edited by Corinna Mansfield, ISBN 0-321-30456-x, Copyright (C) 2005 by Addison-Wesley Publishing Company, Inc.
The Impact of Dynamic Geometry Software as a Didactical Tool
Antonio R. Quesada

Department of Theoretical and Applied Mathematics
The University of Akron
Akron, OH 44325-4002
USA


aquesada@uakron.edu



list of all papers by this author
---
Click to access this paper:
---
In this note we illustrate via two examples basic capabilities of Dynamic Geometry Software (DGS) as a tool for teaching and learning geometry; in particular, the DGS potential to develop activities using the Inquiry-Based (I-B) approach and to promote discovery via the 'explore-discover-conjecture-test-prove' model. In addition we comment on the impact of DGS both in our Concepts of Geometry as well as in the in-services we provide.
---