OLD DOMINION UNIVERSITY

COLLEGE OF SCIENCES

DEPARTMENT OF MATHEMATICS AND STATISTICS
---
---
---
---
A Partial Differential Equations Textbook
MATHEMATICAL METHODS FOR PARTIAL DIFFERENTIAL EQUATIONS
FREE SAMPLE PAGES FROM EACH CHAPTER
---
---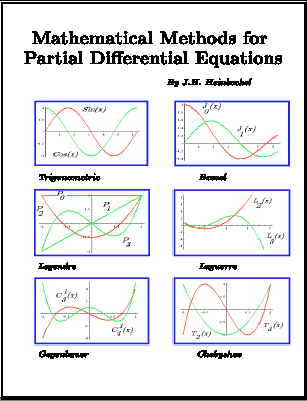 ---
---
An introductory partial differential equations textbook
and technical reference for Mathematicians, Engineers, Physicists and Scientists.
Topics Covered
Partial differential equations

Orthogonal functions

Fourier Series

Fourier Integrals

Separation of Variables

Boundary Value Problems

Laplace Transform

Fourier Transforms

Finite Transforms

Green's Functions

Special Functions

Sample pages from the textbook are available below.

There are numerous illustrative worked examples and answers to selected exercises are given.


If you like what you see you can order textbook through the following bookstores:
Trafford's Internet Bookstore.
Barnes and Noble
Amazon Books
Chapters (Canada's largest on-line merchant)
Borders

If you have problems finding it, then give your local bookstore the following
International Standard Book Number.
ISBN 1-4120-0380-6
---
---
SAMPLE PAGES



(Free samples of first 10 pages from start of each chapter)
---
OLD DOMINION UNIVERSITY

COLLEGE OF SCIENCES

DEPARTMENT OF MATHEMATICS AND STATISTICS
---