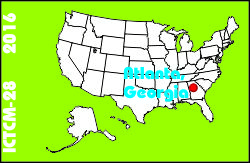 Electronic Proceedings of the Twenty-eighth Annual International Conference on Technology in Collegiate Mathematics
Atlanta, Georgia, March 10-13, 2016
Paper A017
This is an electronic reprint, reproduced by permission of Pearson Education Inc. Originally appeared in the Proceedings of the Twenty-eighth Annual International Conference on Technology in Collegiate Mathematics, ISBN 013480029X, Copyright (C) 2017 by Pearson Education, Inc.
Designing a Meaningful Final Project For an Introductory Statistics Course
---
Click to access this paper:
---
In this paper, a method on how to effectively design a final project to assign to an introductory statistics course is proposed. This paper explains how a selection of topics that are important issues either on campus, in the community, or facing college students today can be the focus of a student research paper involving an opinion based survey.
---
Keyword(s): statistics