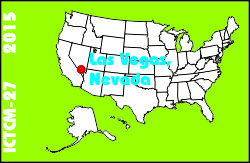 Electronic Proceedings of the Twenty-seventh Annual International Conference on Technology in Collegiate Mathematics
Las Vegas, Nevada, March 12-15, 2015
Paper A005
This is an electronic reprint, reproduced by permission of Pearson Education Inc. Originally appeared in the Proceedings of the Twenty-seventh Annual International Conference on Technology in Collegiate Mathematics, Copyright (C) 2016 by Pearson Education, Inc.
Effects of Online Homework in Face-to-Face Developmental Mathematics Courses
Amy Barnsley

Department of Mathematics and Computer Science
Northern Michigan University


abarnsle@nmu.edu
---
Click to access this paper:
---
An investigation of the effects of online homework on the achievement of developmental mathematics students in face-to-face classes used a matched pair experimental design. Student and instructor opinions were explored with an opinion survey. Special analysis was done on data from Alaska Native and non-traditional students. A total of 423 students, six instructors and four levels of developmental mathematics were involved in the study. Findings suggested it is possible to expect similar or slightly higher achievement results with online homework. Varied opinions indicate the need for students have a choice of homework type.
---
Keyword(s): developmental mathematics, Internet