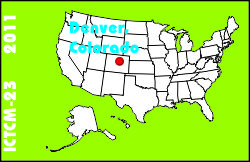 Electronic Proceedings of the Twenty-third Annual International Conference on Technology in Collegiate Mathematics
Denver, Colorado, March 17-20, 2011
Paper S115
This is an electronic reprint, reproduced by permission of Pearson Education Inc. Originally appeared in the Proceedings of the Twenty-third Annual International Conference on Technology in Collegiate Mathematics, ISBN 0-321-68984-4, Copyright (C) 2012 by Pearson Education, Inc.
Enhancing Statistics Courses for Psychology Students Using Technology Resources
---
Click to access this paper:
---
Educational researchers believe that advanced statistics topics are now essential for psychology graduates. To address this issue many statistics departments offer a second undergraduate course including ANOVA, regression, categorical data analysis and nonparametric methods. This presentation discusses the benefits of using technology resources when teaching this type of course.
---
Keyword(s): statistics