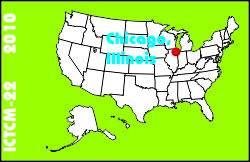 Electronic Proceedings of the Twenty-second Annual International Conference on Technology in Collegiate Mathematics
Chicago, Illinois, March 11-14, 2010
Paper S040
This is an electronic reprint, reproduced by permission of Pearson Education Inc. Originally appeared in the Proceedings of the Twenty-second Annual International Conference on Technology in Collegiate Mathematics, ISBN 978-0-321-74614-6, Copyright (C) 2011 by Pearson Education, Inc.
Preparing Future Secondary Mathematics Teachers to Use Technology Effectively in Their Classrooms
William L. Blubaugh

Department of Mathematical Sciences
University of Northern Colorado
Greely, CO 80639
USA


bill.blubaugh@unco.edu



list of all papers by this author
---
Click to access this paper:
---
This paper addresses three to five major mathematics concepts within algebra, geometry, trigonometry, statistics, and/or calculus. Technology used for instruction includes the TI-Nspire calculator, dynamic geometry software, and mathematics applets from the Internet. We conclude with a discussion regarding the ideas and experiences of participants in this area.
---
Keyword(s): teacher training, software, TI-Nspire