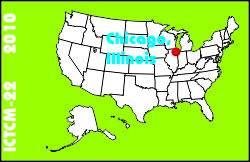 Electronic Proceedings of the Twenty-second Annual International Conference on Technology in Collegiate Mathematics
Chicago, Illinois, March 11-14, 2010
Paper S031
This is an electronic reprint, reproduced by permission of Pearson Education Inc. Originally appeared in the Proceedings of the Twenty-second Annual International Conference on Technology in Collegiate Mathematics, ISBN 978-0-321-74614-6, Copyright (C) 2011 by Pearson Education, Inc.
Keystone Method: Integration of Methodology and Technology A Synergistic Model for Teaching and Learning
M. Vali Siadat


Richard J. Daley College

Euguenia Peterson


Richard J. Daley College

Cyrill Oseledets


Richard J. Daley College

Ming-Jer Wang


Richard J. Daley College

Guo Quan Zhang


Richard J. Daley College
---
Click to access this paper:
---
We present the results of a research study investigating the integration of a synergistic teaching approach with modern computer technology in developmental mathematics classes at the college. Analysis of the data shows that students in experimental classes employing the synergistic approach attained higher performance outcomes compared with students taught under traditional methods. The higher outcomes were not achieved with the attrition of weaker students.
---
Keyword(s): developmental mathematics, software