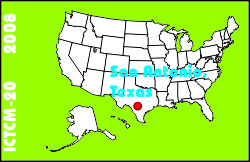 Electronic Proceedings of the Twentieth Annual International Conference on Technology in Collegiate Mathematics
San Antonio, Texas, March 6-9, 2008
Paper R013
This is an electronic reprint, reproduced by permission of Pearson Education Inc. Originally appeared in the Proceedings of the Twentieth Annual International Conference on Technology in Collegiate Mathematics, ISBN 0-321-64488-3, Copyright (C) 2009 by Pearson Education, Inc.
Real Analysis Online: A Community of Learners and the Concept of Proof
---
Click to access this paper:
---
The presentation will describe how a proof-heavy upper-division mathematics course can be offered online. The presenter will discuss how online discussion boards can be used to foster interaction between students and how this interaction can be harnessed to construct, write, review, and refine proofs in Real Analysis.
---
Keyword(s): on-line access, real analysis