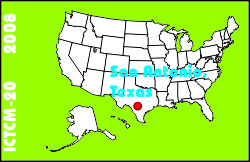 Electronic Proceedings of the Twentieth Annual International Conference on Technology in Collegiate Mathematics
San Antonio, Texas, March 6-9, 2008
Paper C028
This is an electronic reprint, reproduced by permission of Pearson Education Inc. Originally appeared in the Proceedings of the Twentieth Annual International Conference on Technology in Collegiate Mathematics, ISBN 0-321-64488-3, Copyright (C) 2009 by Pearson Education, Inc.
Taking the Plunge, One Foot at a Time
Christine Heinecke Lehmann

Purdue University North Central


clehmann@pnc.edu
---
Click to access this paper:
---
Even with the wealth of evidence that online mathematics tutorial/assessment programs improve student performance and persistence, some institutions remain hesitant about wholesale course redesign, perhaps because of perceived effort involved or possible student (or instructor) resistance. The author has adopted an approach in her developmental mathematics courses permitting student and instructor choice. Preliminary results are shared.
---
Keyword(s): software, developmental mathematics