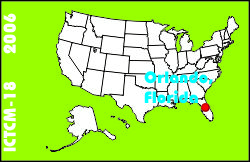 Electronic Proceedings of the Eighteenth Annual International Conference on Technology in Collegiate Mathematics
Orlando, Florida, March 16-19, 2006
Paper S033
This is an electronic reprint, reproduced by permission of Pearson Education Inc. Originally appeared in the Proceedings of the Eighteenth Annual International Conference on Technology in Collegiate Mathematics, Edited by Joanne Foster, ISBN 0-321-49160-2, Copyright (C) 2007 by Pearson Education, Inc.
Sneak Away to the ICTCM and Don't Cancel Class
Amy Fisher

Miami University Middletown
4200 East University Blvd.
Middletown, OH 45042
USA


fisherma@muohio.edu
---
Click to access this paper:
---
STA 301, a calculus-based, introductory statistics course, was delivered asynchronously to 35 students during summer 2005 and fall 2005 terms. We will discuss the development of online learning modules and the benefit of modules that show our personal teaching styles. Students responses and achievement will be available.
---
Keyword(s): statistics, distance learning