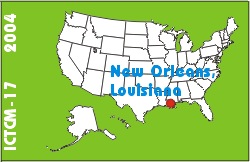 Electronic Proceedings of the Seventeenth Annual International Conference on Technology in Collegiate Mathematics
New Orleans, Louisiana, October 28-31, 2004
Paper S103
This is an electronic reprint, reproduced by permission of Pearson Education Inc. Originally appeared in the Proceedings of the Seventeenth Annual International Conference on Technology in Collegiate Mathematics, Edited by Joanne Foster, ISBN 0-321-43792-6, Copyright (C) 2006 by Pearson Education, Inc.
Cognitive Computer Tools in Undergraduate Calculus: A Qualitative Research Study
Nathan A. Borchelt

Clayton College & State University
5900 North Lee Street
Morrow, GA 30260-0285
USA


NathanBorchelt@mail.clayton.edu



list of all papers by this author
---
Click to access this paper:
---
The results of a recent research study will be discussed. Student learning was examined as groups engaged in collaborative mathematical tasks that were facilitated with the use of MathCad. The focus of the study was to determine how the use of a cognitive computer tool affects the levels of cognitive demand.
---