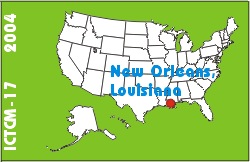 Electronic Proceedings of the Seventeenth Annual International Conference on Technology in Collegiate Mathematics
New Orleans, Louisiana, October 28-31, 2004
Paper S078
This is an electronic reprint, reproduced by permission of Pearson Education Inc. Originally appeared in the Proceedings of the Seventeenth Annual International Conference on Technology in Collegiate Mathematics, Edited by Joanne Foster, ISBN 0-321-43792-6, Copyright (C) 2006 by Pearson Education, Inc.
Expanding Curves and Arc Length
---
Click to access this paper:
---
Motivated by a classical puzzle, we create a curve from a set of points at a fixed distance from a given curve along the normal. MAPLE assists in graphing and experimentation with arc length. This leads to theorems on the arc length of these curves.
---
Keyword(s): multivariable calculus, Maple