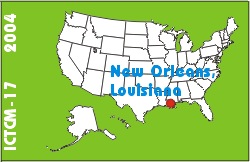 Electronic Proceedings of the Seventeenth Annual International Conference on Technology in Collegiate Mathematics
New Orleans, Louisiana, October 28-31, 2004
Paper S011
This is an electronic reprint, reproduced by permission of Pearson Education Inc. Originally appeared in the Proceedings of the Seventeenth Annual International Conference on Technology in Collegiate Mathematics, Edited by Joanne Foster, ISBN 0-321-43792-6, Copyright (C) 2006 by Pearson Education, Inc.
Algorithmic Homework in Finite Math - What Are the Benefits?
---
Click to access this paper:
---
A courseware system has been used for years in Finite Mathematics. Beginning Fall 2003, the system was used to assign algorithmic problems for homework. The students learned more from the algorithmic assignments, relative to previous semesters. A detailed analysis of the implementation and results will be presented in this talk.
---
Keyword(s): finite mathematics, on-line access